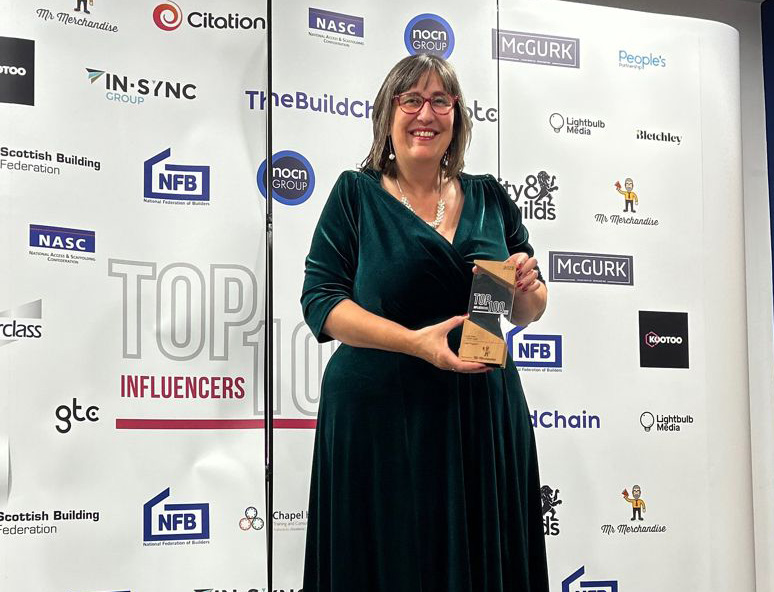 Lisa Pogson named Local Hero - North East at national industry awards
Airmaster MD, Lisa Pogson has been recognised at the National Federation of Builders Top 100 Influential Women in Construction Awards at Edgbaston in Birmingham this week. She was presented with the Local Hero – North East Award at the black tie construction industry event on Wednesday 4th October.
Lisa-Jayne Cook (pictured left with Lisa), Chair of Women in RACHP (Refrigeration, Air Conditioning, and Heat Pumps) said "Lisa is nothing short of a change maker and a role model within the RACHP industry as well as her local community. Lisa has been a strong and visible role model to me and other women within our industry for many years, a real trail blazer! While we will battle on for women to be given the recognition they deserve, we have less of a struggle on our hands to find allies these days, and that's all down to people like Lisa, who have walked the path before us. From everyone at the IOR and the IOR's Women in RACHP, a big congratulations to Lisa, we are proud to work with you."
Lisa who has been in the construction industry for almost 40 years is a member of the Institute of Refrigeration and has been on their Women in RACHP for 4 years. She is a keen supporter of the development of skills, has been a STEM Ambassador for 14 years, is an Enterprise Advisor at a local school in Rotherham. She has worked with STEMamazing to highlight the construction industry to primary school children, has been a mentor for Sheffield Engineering Leadership Academy, and is also a board member at The Source Academy in Sheffield.
Following on from the success of the first Awards in 2022. NFB is pleased to announce the second awards for 2023. The awards celebrated women and non-binary role models within the construction industry. The evening will announce the winners from the shortlist of each category and also the overall Top 100 Most Influential Women in Construction.
More details on the awards can be found here…
https://www.builders.org.uk/awards-conferences/top-100-influential-women-in-construction/the-shortlist-2023/