Daikin heat recovery systems give prime office building new lease of life.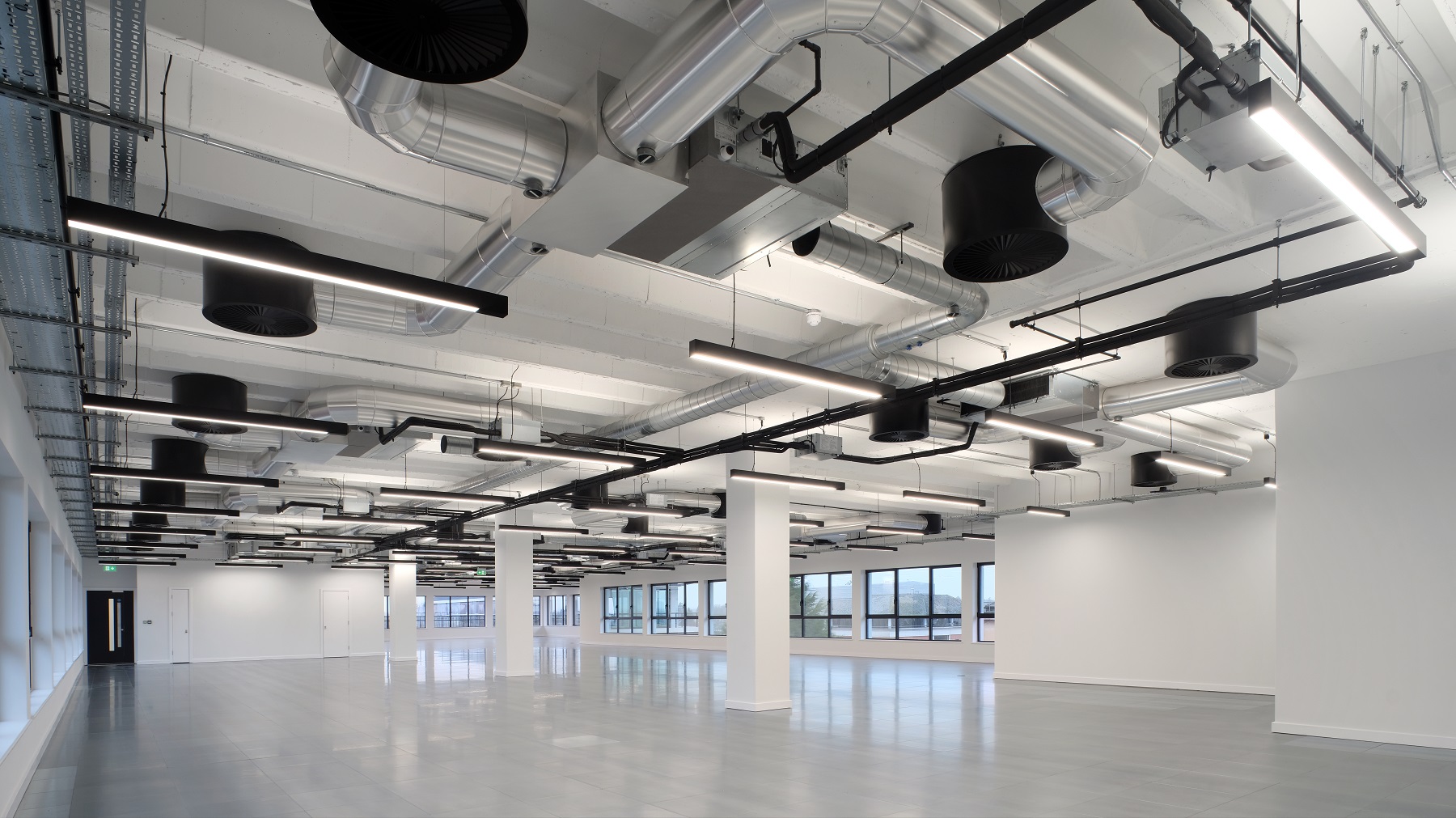 A prime office property in busy Watford has returned to the letting market after a massive facelift – including an efficient new heat recovery air conditioning installation that is configured to suit the needs of up to nine tenants. Described as a self-contained headquarters office building, 40 Clarendon Road has almost 50,000 square feet of lettable space, spread across five floors. The building, which dates from 1998, is part of an investment company's portfolio. Refurbishment followed a previous tenant's move to even larger premises. The new Daikin VRV IV heat recovery air conditioning system, installed by Rotherham-based Daikin D1+ Business Partner, Airmaster, as part of the Category A fit out, was designed to British Council for Offices standards.
"This means we have smaller indoor units where future tenants might want to install peripheral meeting rooms or small offices, and larger units in the central 'general office' areas," says Airmaster director Gareth Campbell. Indoor units are exclusively medium static pressure concealed ceiling units. This is unusual in an exposed services environment as these units are primarily designed to offer flexibility and performance in rooms with limited space or with irregular shape (L-shaped, U-shaped, or long rooms). They also offer automatic airflow adjustment, which means they are draught-free and quickly reach the desired temperature while being whisper-quiet. Sound levels can go lower than 25 decibels.
Gareth Campbell says: "They wanted a high-end look for the pipework and ducting. We had to present a number of sample configurations and they chose a shiny, smooth aluminum cladding."
To download a PDF of this case study please click here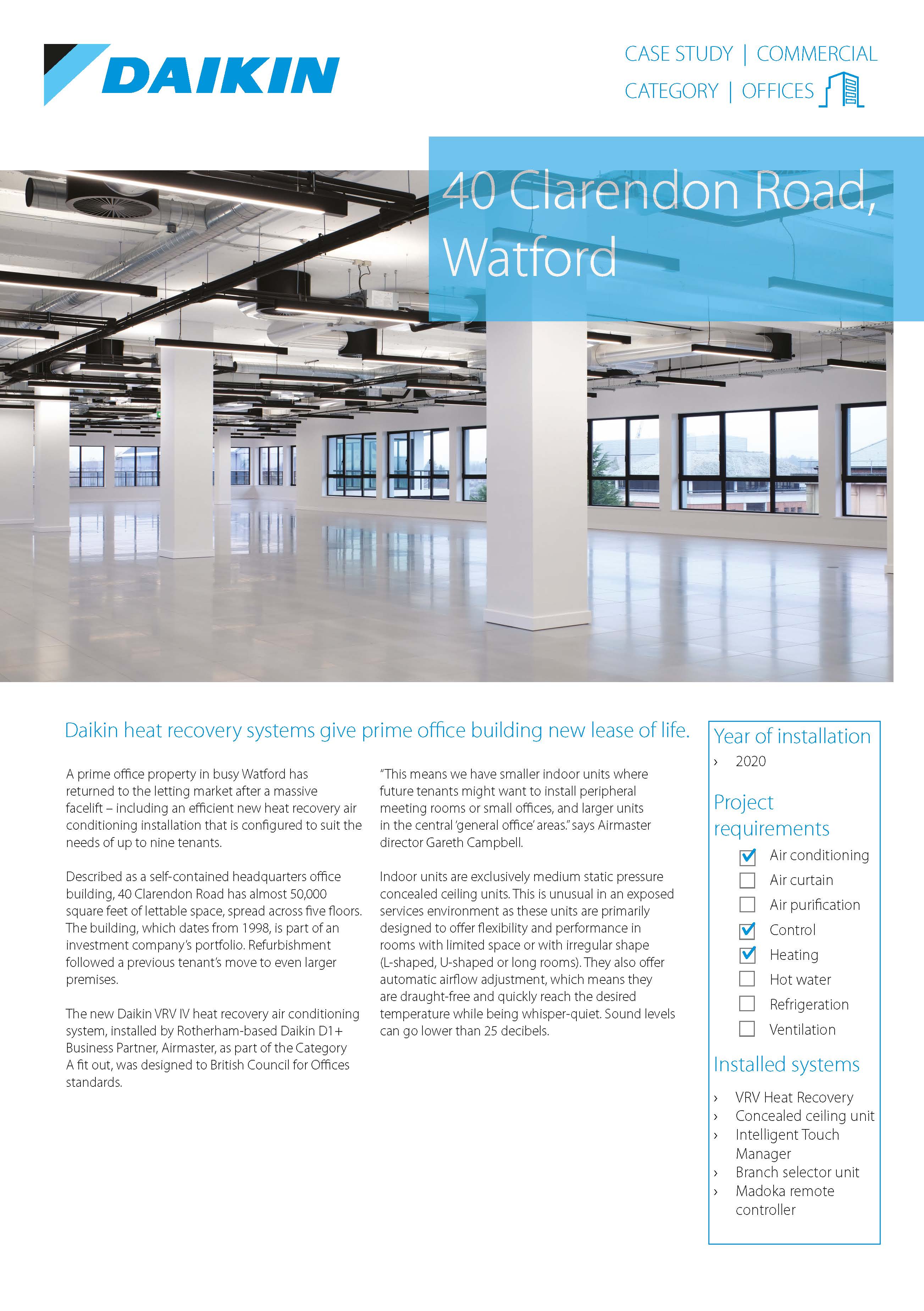 The Daikin indoor units are all in their 'natural' state – apart from in the reception area where exposed services are all sprayed matte black.
Each unit has an individual branch selector box, providing maximum flexibility to accommodate 'cooler' or 'warmer' requirements – plus facilitating isolation of units, if necessary.
At the core of the installation are 19 VRV IV heat recovery outdoor units, ranging from 8-16hp and totaling 230hp. Heat recovery units are inherently more efficient than straight heat pumps – and additionally have the ability to deliver simultaneous cooling and heating, economically using 'waste' heat.
The outdoor units drive nine independent systems – one for the 8,500 sq. ft ground floor, and two for each of the four upper floors which range from 8,000 to 10,000 sq. ft. As a result, the upper floors could each be let to one or two tenants.
Each of the systems is controlled at tenant level through a Daikin Intelligent Touch Manager with individual local control of 41 zones through Daikin's elegant wall-mounted Madoka controllers. Overall, the Daikin systems are linked to building management system via a BACnet gateway.
Conveniently sited midway between Watford Junction and the town's main shopping area – and an easy walk to both – the building has open and underground parking for 129 cars. The refurbishment also included new lighting, lifts and toilets.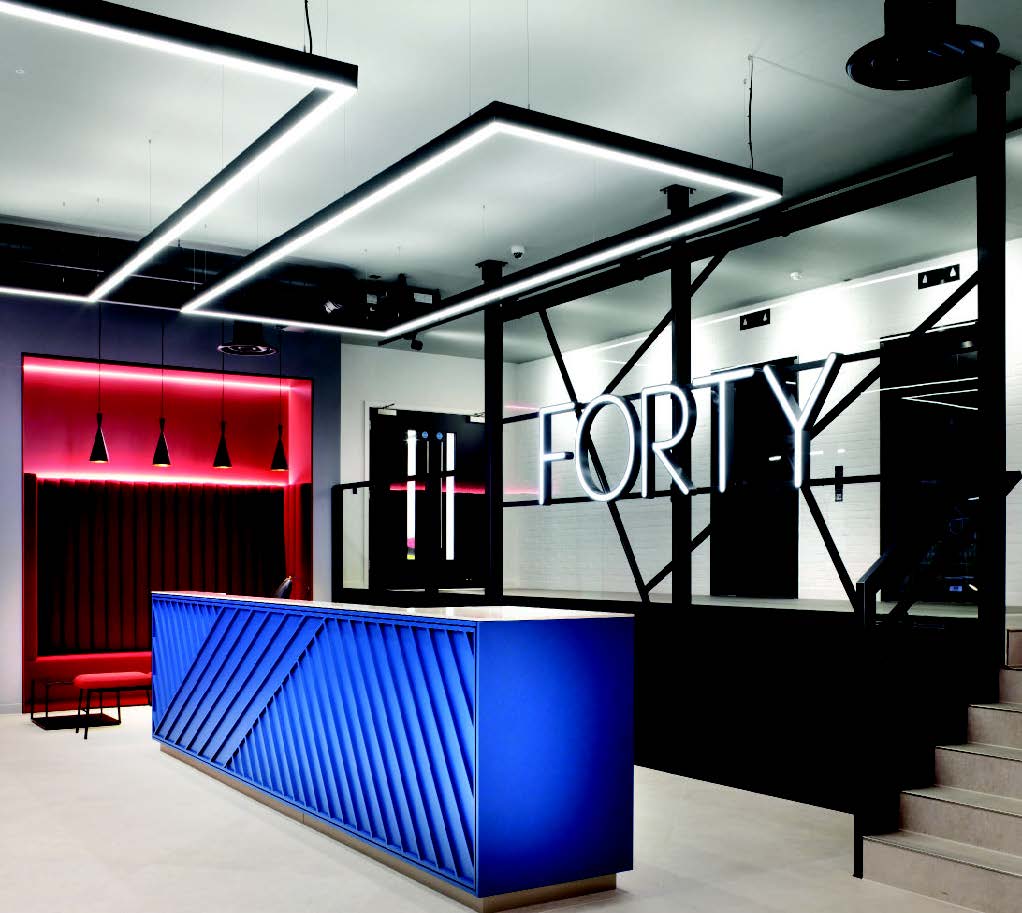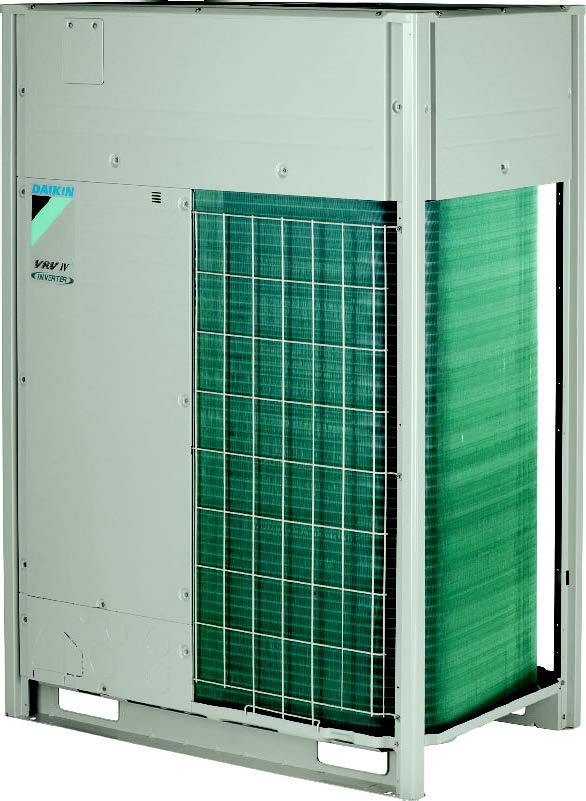 Business Park Offices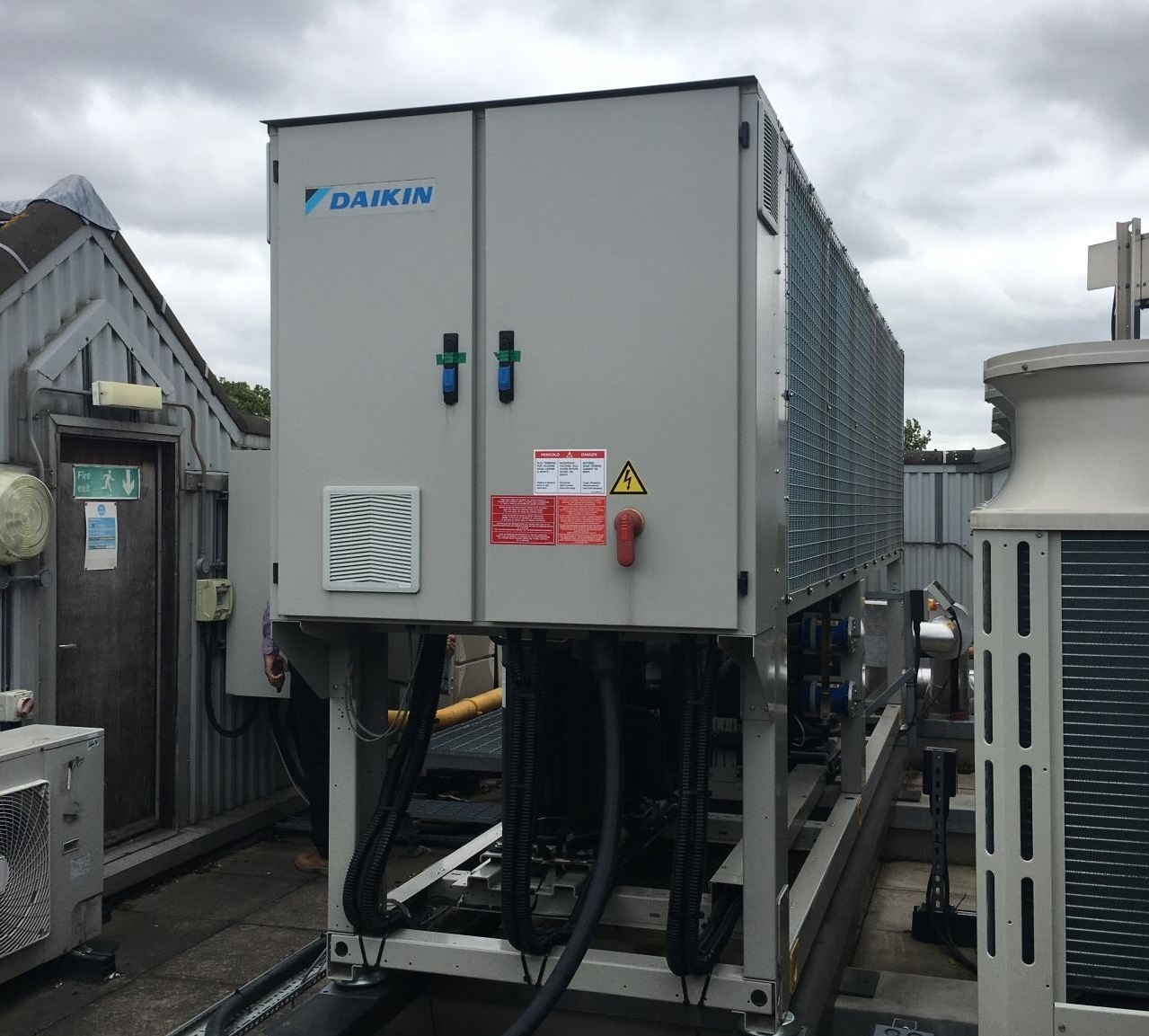 The photos below are from whilst we were completing a mechanical fit in Watford. The landlord owned various buildings on the business park and there was a relatively new Daikin chiller on the roof that was surplus to requirements due to the whole building converting to VRF/V.
There was however another chiller at the end of its life on another building so whilst in contract and to make space for our new condenser banks we successfully disconnected both chillers, controls power and water, craned the old one off to be disposed, then the new one off one building, re set up the crane location to lift it onto the other building in the same day.
Then the week that followed, re piped, dosed, insulation and cladding, power, BMS, water balancing and commissioning. Needless to say good planning, preparation and communication meant this all went smoothly and we envisage for every project.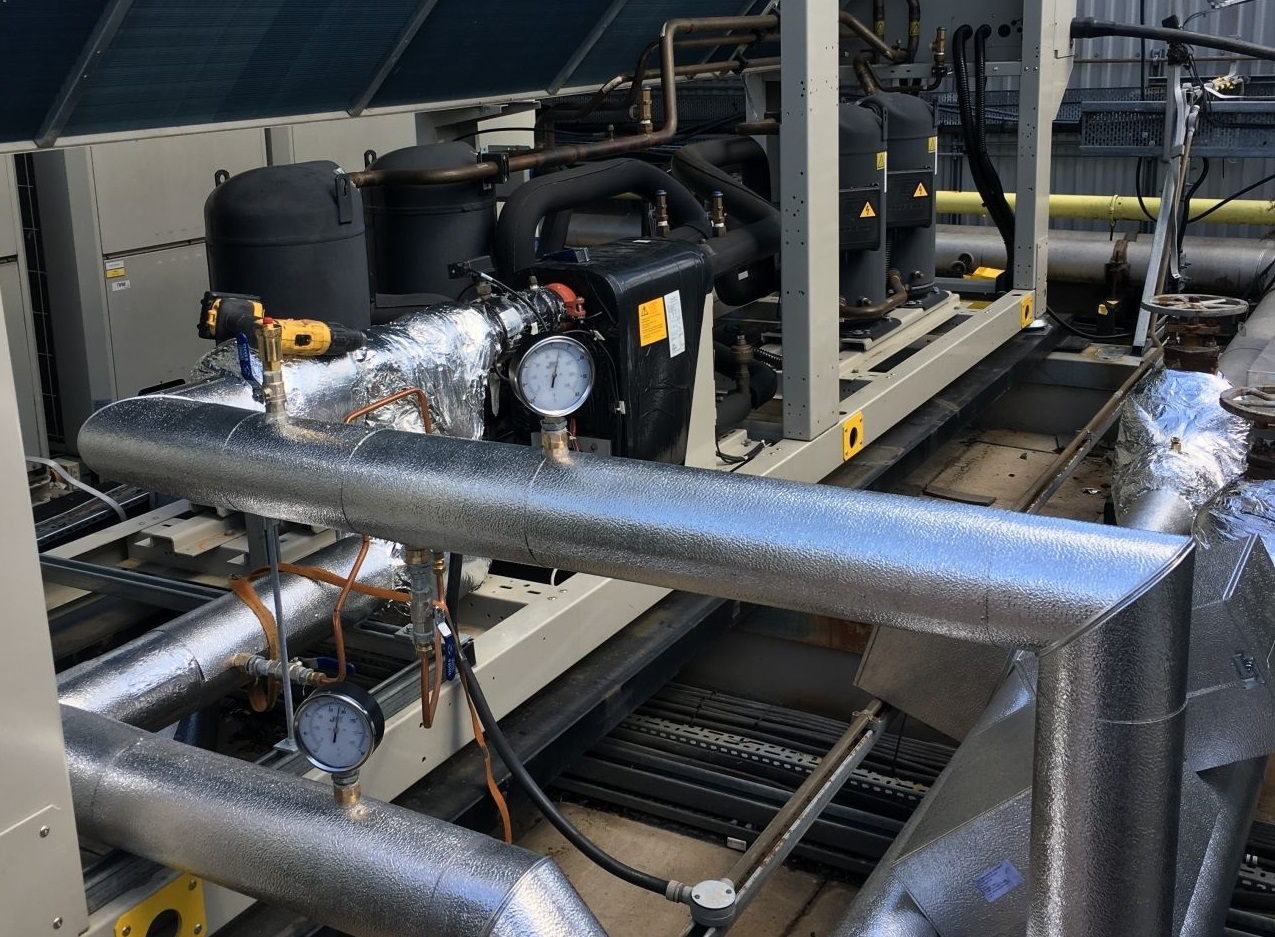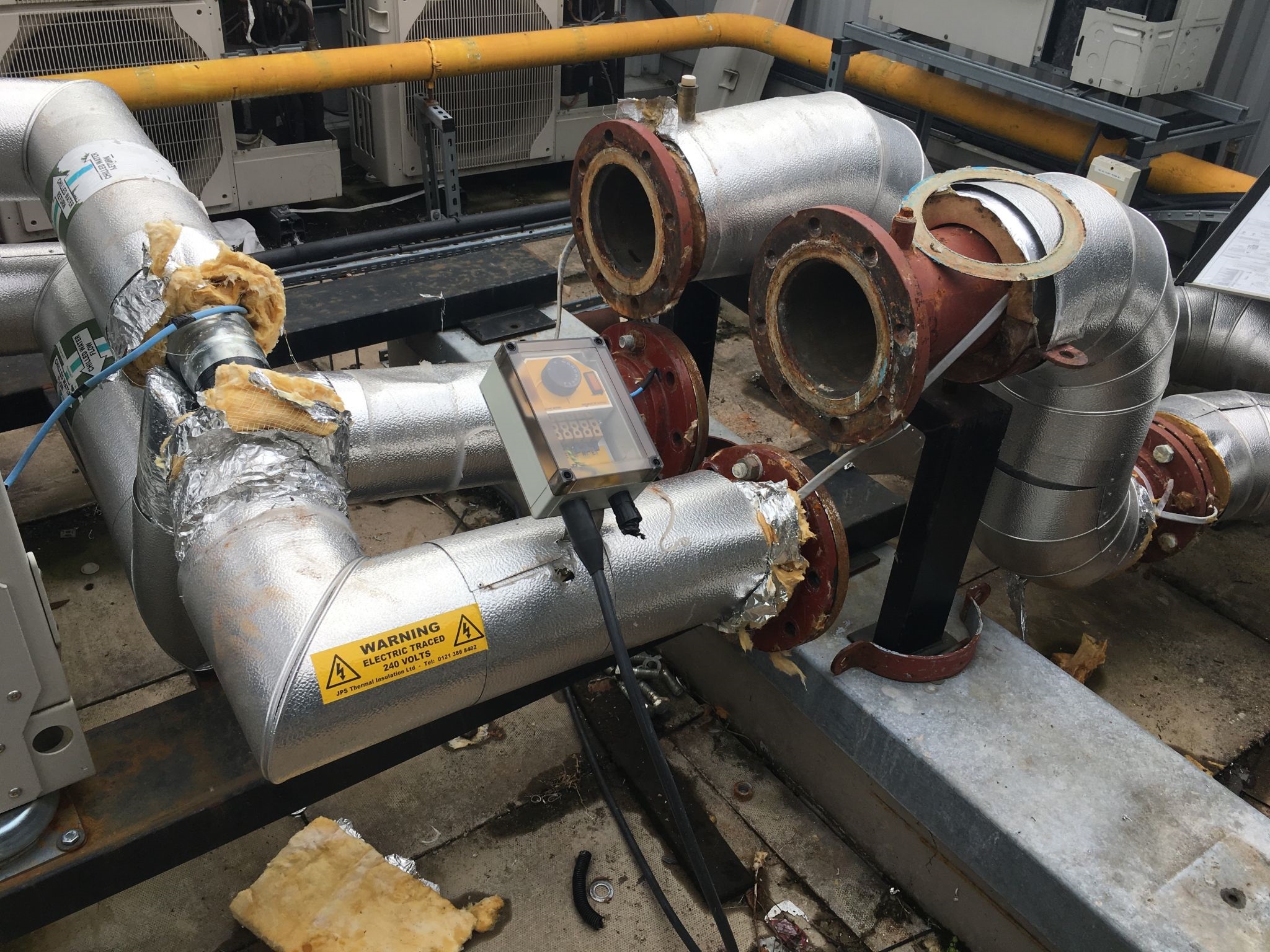 Pharmaceutical / Health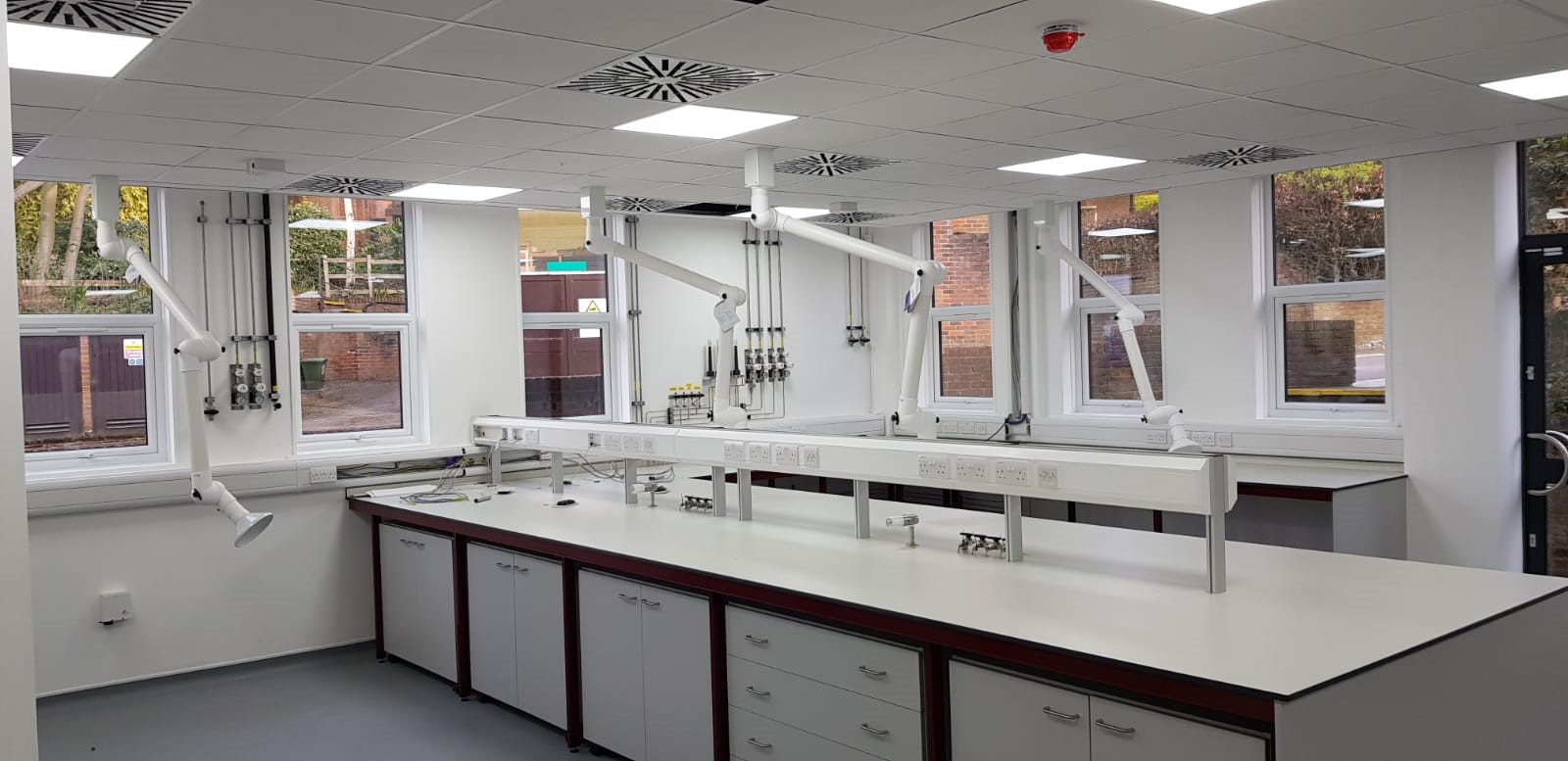 Airmaster have completed the full design and build mechanical install of specialist laboratory systems for a pharmaceuticals company in the health sector.
The install compromised of:
Flexible LEV extraction arms in the laboratories.
Dedicated plastic fume extraction systems to the fume cupboards up to roof level duty/assist centrifugal fans and purge stack.
All this controlled via an Easylab VAV damper system to keep the pressures in balance when the environment changes.
Magnehelic Gauges were installed at each entrance to show the pressure reading of the room, each with its own specific requirement.
The general ventilation was supplied via packaged Air Handling Units with LTHW frost coil via an Air Source Heat Pump and DX heating/cooling coils.
Fan units were installed throughout the floors with VRV Condensers providing comfortable temperature control to the office and laboratories via secondary high induction supply grilles.
All roof systems required walkways and handrails manufacturing to provide safe access.
Other systems installed include a Comms Room AC split system, a -20 degree freezer room build and refrigeration install for material storage.
Stainless steel ductwork and plastic fan to specialist ICPMS lab equipment to deal with chemical fume extraction. Buffer vessel and pump set configuration within the plantroom.
And finally, a full public health install of sanitary ware and laboratory sinks and basins and safety shower, POU water heaters, high efficiency twin water softener and GRP storage tank with twin headed booster pump.
All systems controlled and managed via a fully integrated BMS system with head end PC and graphics.
Download the full PDF case study here.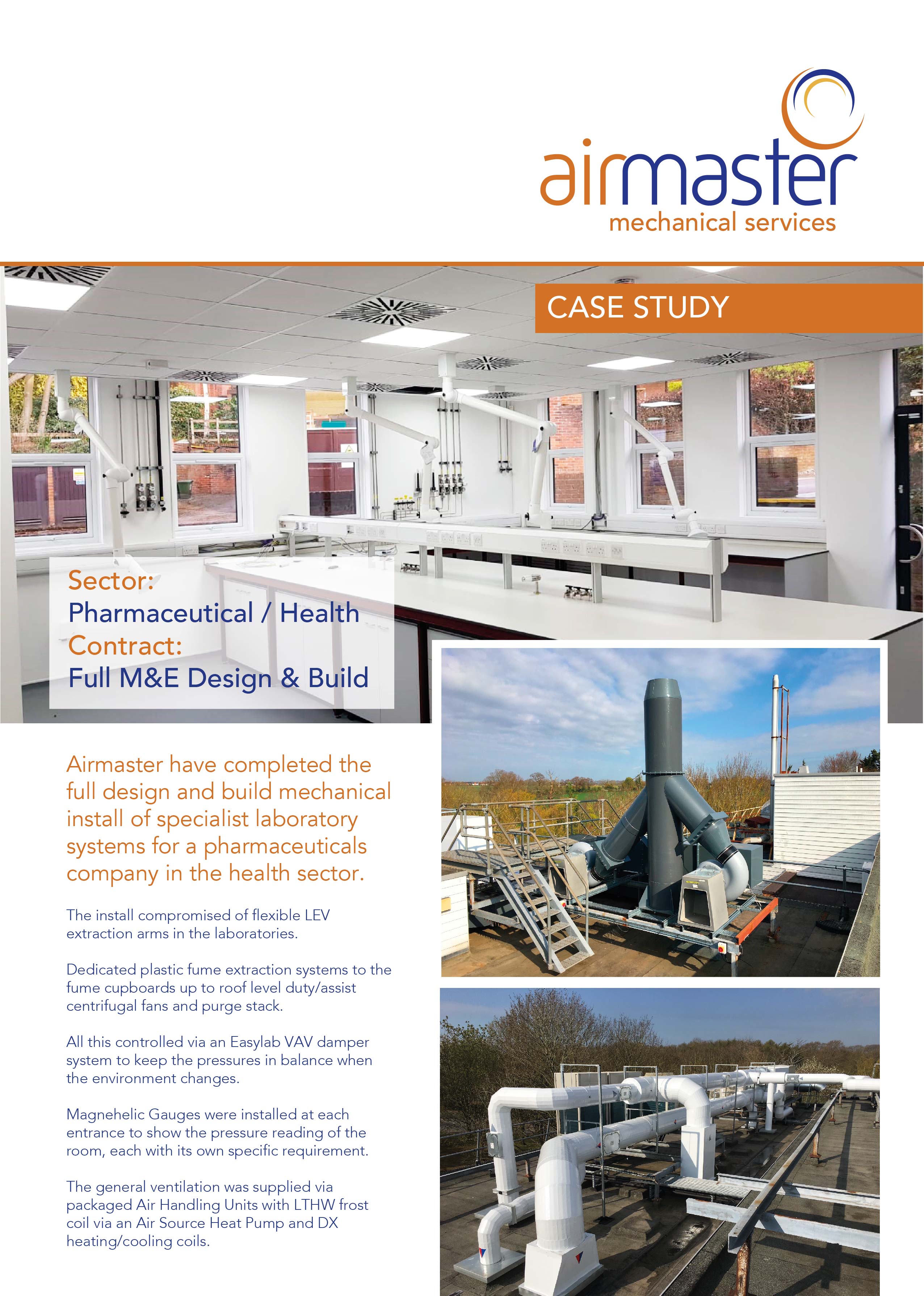 A great team effort by all, from the conception of Airmaster's team of designers which made all that came after run and work smoothly. The install with our own contracts engineers and site supervision completed the whole project within a 13 week programme!
The team also completed a 2 week commissioning phase at the end to balance the systems in a -10pa lab environment.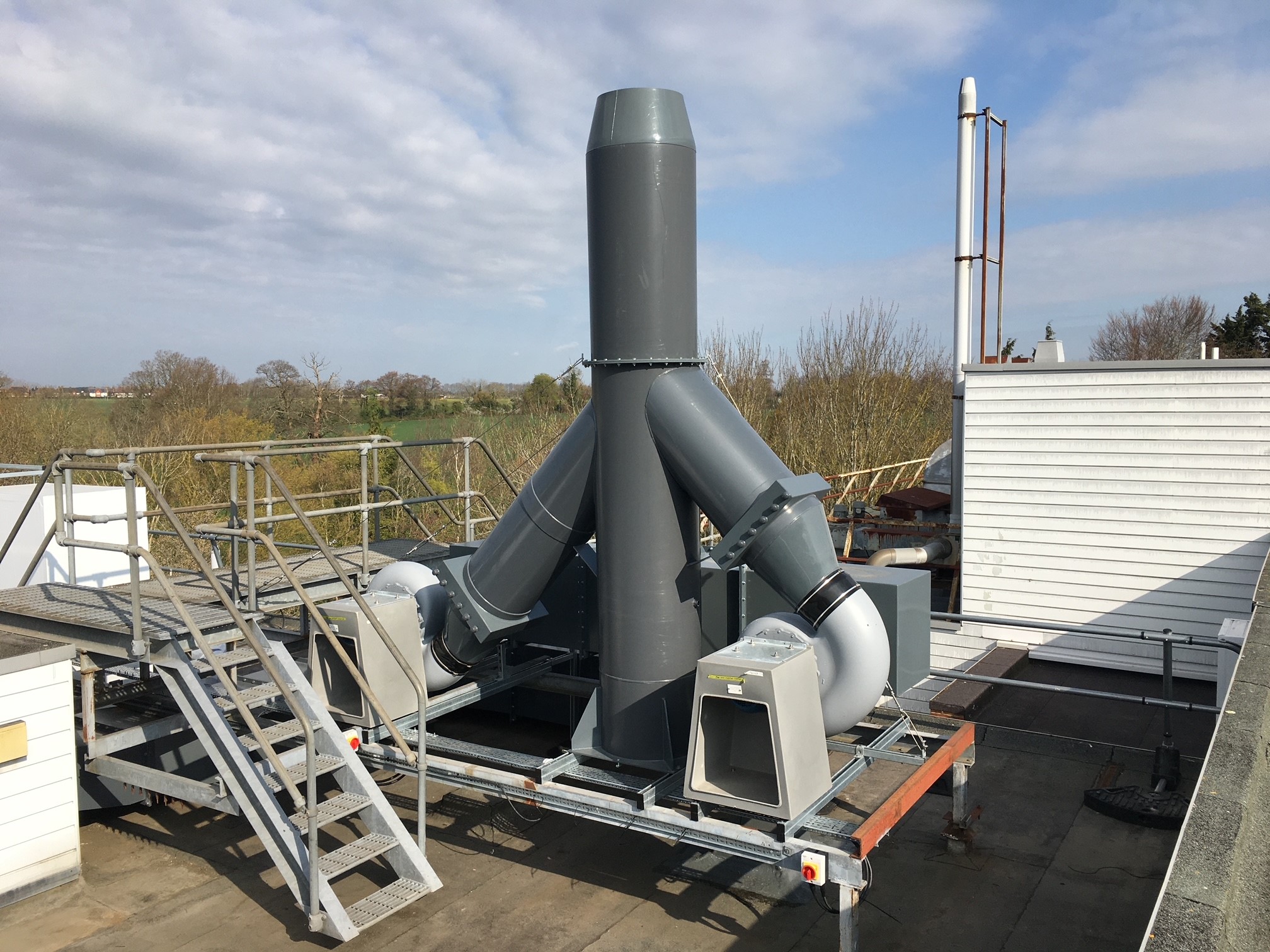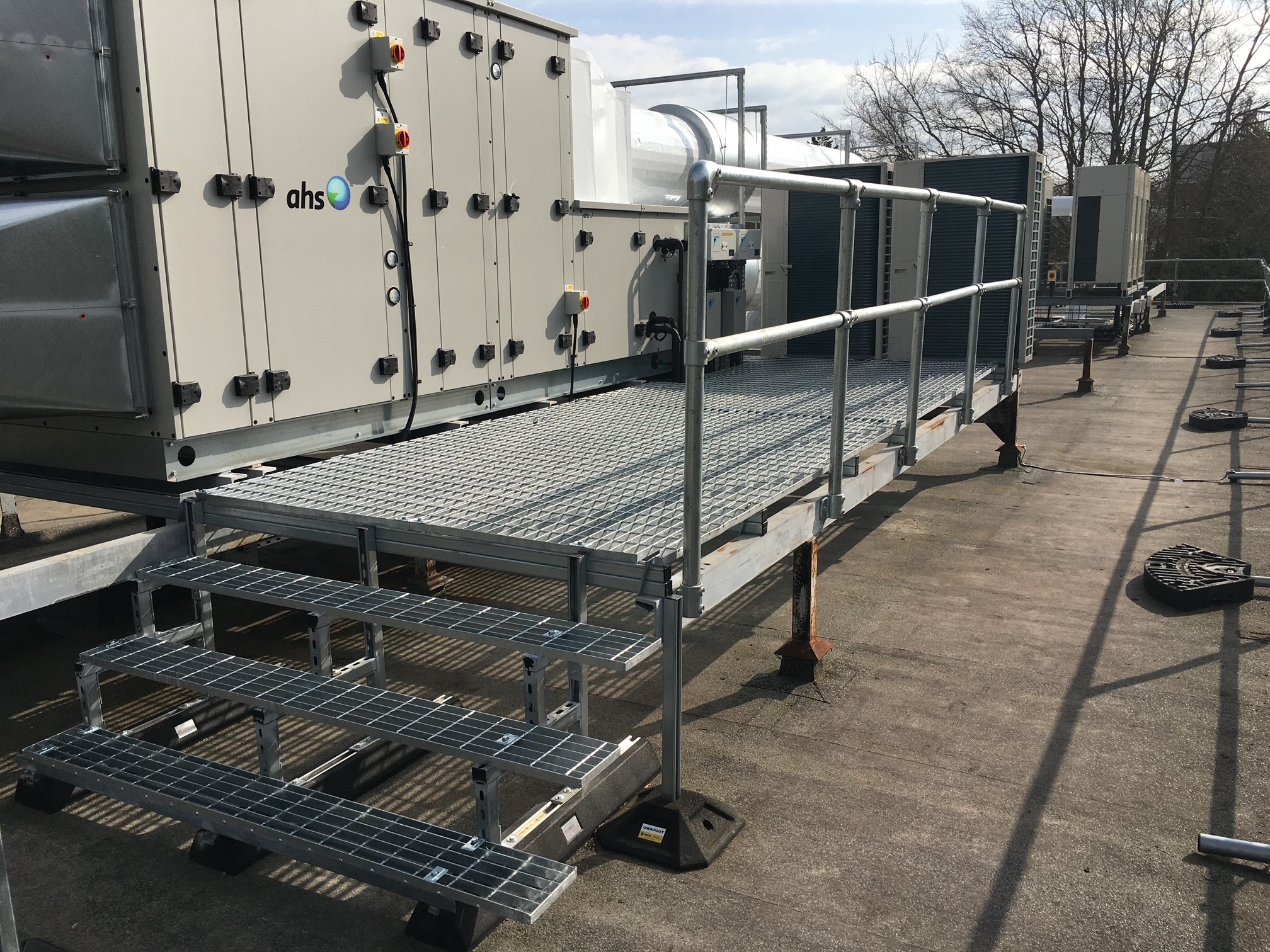 Major chiller refurbishment for British multinational, York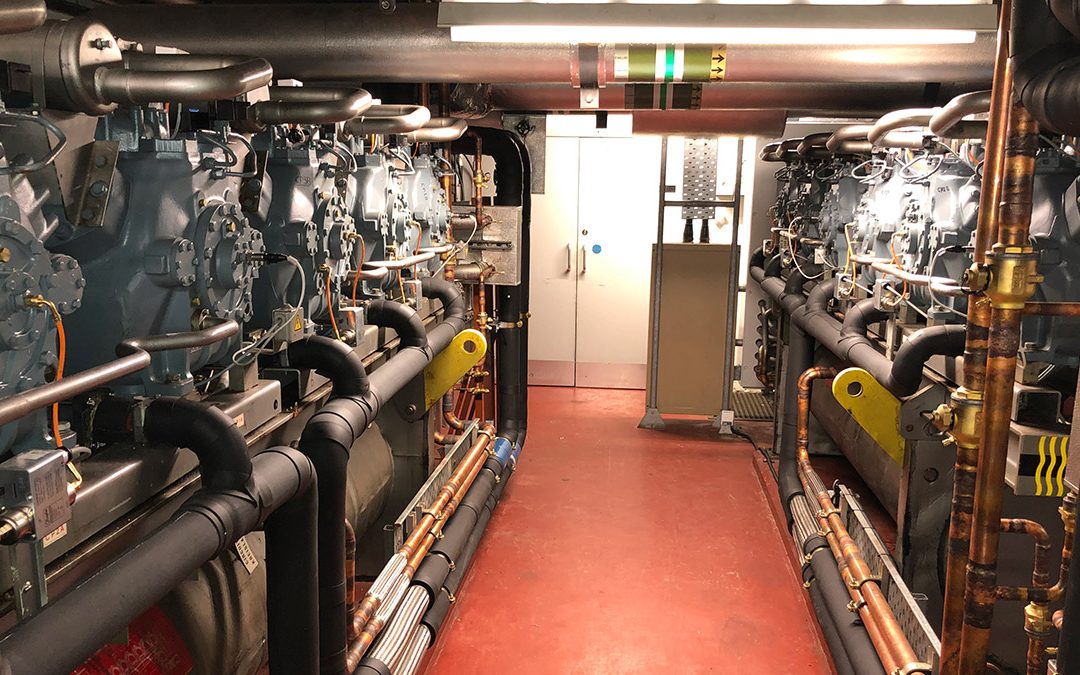 Airmaster were presented with a unique challenge in refrigeration when tasked with the refurbishment of two chiller's in one of York's most stunning buildings. The chiller systems which run throughout the 6-storey building were circa 27 years old and required a number of significant repairs for future system resilience and life span longevity. With such old systems in place, parts were now obsolete and more importantly inefficient. The core focus of this project was to modernise the existing chiller systems making them more durable and efficient to compete with modern day chiller technology, all while offering a great value engineering solution beneficial to the end users budgets.
The heart of this chiller refurbishment lies in the basement where the compressors, evaporators and control panels are situated. The basement plant room is a congested area filled with mechanical equipment and associated electrical equipment. All twelve compressors had to be manoeuvred carefully out of the space safely and taken away for full refurbishment. All the refrigerant pipework, NRV's, mufflers, vibration eliminators, ball valves, pipe insulation and pipe clamps were replaced for new in the plant room and roof top condenser area.
New Carel ExV electronic expansion valves replaced the existing dated originals. These new valves specifically focus on energy efficiency, in addition they produce high levels of precise refrigerant control passing through the evaporator.
New Airedale control panels also replaced the existing panels. The new control panels utilise a microprocessor controller taking full advantage of the latest state of the art technology.
The control system comprises of three main parts, the controller with built-in user interface, electronic expansion valve drivers and head pressure control. The display keypad is used for viewing the unit operating status and making adjustments to control parameters by allowing the operator access to a series of display pages. Visual alarm and the facility to adjust and display control settings are available at the display keypad for local operator information and control.
The chillers initially used refrigerant R22 but this was eventually phased out, MO29 (R422D) was chosen as the replacement around 10 years ago but ultimately this wasn't a success. After diligent research, a reasonably new refrigerant to the UK market was chosen, RS70 (R453A). The focus was energy efficiency and compatibility with the systems as a whole. RS70 has a cooling capacity within 3% of R22 and has the highest efficiency rating plus the lowest GWP (1765) of all the R22 replacements currently on the market. In total, both chillers used 2,400kg of RS70.
Both chillers housed four Searle GEA condensers in total, consisting of 48 Ziehl Abegg fan motor assemblies. Twelve of the original motors were found to be faulty and were replaced with the new type Ziehl Abegg FN091. Once again, energy efficiency took president, the FN091 use EC fans and motors with maximum efficiency. The motors are controlled via pressure transmitters to the exact speed required, which in turn provide pin point operating pressures of the new refrigerant.
This was a delicate project handled with great care by the engineering team at Airmaster, who continue to grow as rising stars in the refrigeration sector. The refurbishment saved hundreds of thousands of pounds for the builder owners and provides the onsite PPM team a much more proactive way of controlling the buildings comfort conditions without the reactive issues presented by the chillers previous condition.
To download a PDF of the case study please click here.